SafeWorkPro provides managers with insights into how the safety of your business is being conducted. On this page you will find instructions on how to use SafeWorkPro at a managerial level.The two main tasks that you will participate in as a manager are:
Accessing dashboards to see how the team is performing
Managing job steps and general hazards to ensure the best safety information is used
Daily risk assessments are one of the dashboard tiles which is available through the back-end administration section of the SafeWorkPro tool. These daily risk assessments provides managers with a snapshot of what is currently happening in their business each day.
1. Login to your SafeWorkPro instance as instructed in your welcome email. Alternatively, instructions can be found
here
.2. To get to the administration section, open the menu in the top left-hand corner of the screen and select the "Backend" item
3. Once again open the menu in the top left-hand corner. You will note that its contents have changed now you are in the backend. Open Plugin > Safework > Dashboard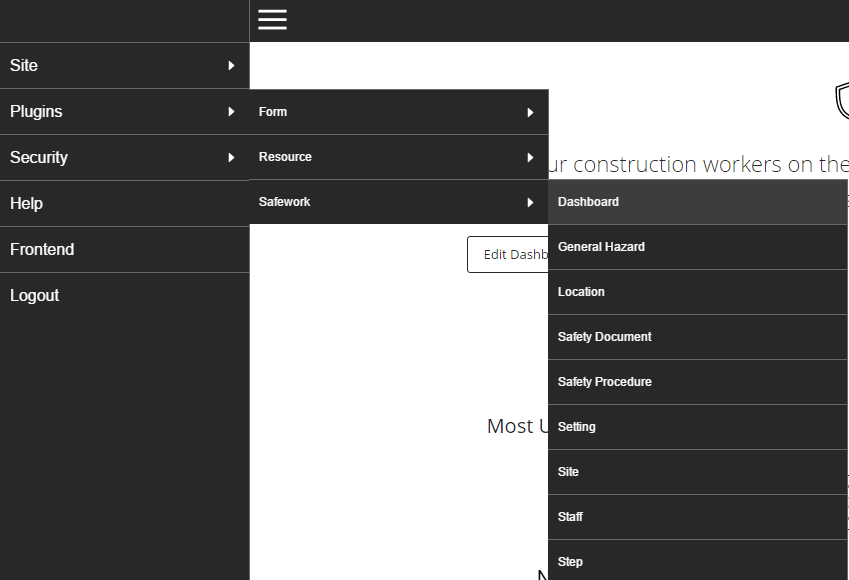 4. On this page you will see a section named Today's Risk Assessments. This is a list of all risk assessments that have been filled out today. From this list you can see who has filled out risk assessments. You can also see who is working on the highest risk activity and plan your management supervision accordingly. This is one of many metrics that can be displayed on your dashboard.

Job Steps and General Hazards
Job Steps and General Hazards are the two ways that specific tasks (or steps) can be added to a risk assessment. Both allow your staff members to specify the actual task they are performing, identify hazards and implement a hierarchy of control. The difference between a Job Step and a General Hazard is that Job Steps have a Safe Work Method Statement (SWMS) as the control.

As staff begin to fill out a Job Step or General Hazards they will be presented with options that have been used on previous risk assessments. If they select an option then the Job Step or General Hazard will be populated with the hazards, risks and controls. The staff member can then review the control and ensure they conduct themselves safely.

SafeWorkPro uses previous Job Steps and General Hazards that your staff have filled out. So, as a manager you may no longer want a specific Job Step or General Hazard to be an available option, or you may want to simply add your own to ensure those options are appearing when the staff members are filling out their risk assessments.

1. Make sure you are logged in and in the administration pages as described in steps 1 and 2 in the section above.
2. Click Backend > Plugins > Safework >Step or General Hazard (depending on the which one you wish to work on) .
3. To remove a step as an option, click the Edit button next to the Step of interest.
4. On the edit page (as seen below), un tick the active checkbox.
5. Click Save Step.
NOTE: You cannot update any of the other fields in a Step or General Hazards as they would have been used in a risk assessment already.

6. To create a new Step, click "Create Step" at the top left of the page
7. Fill in the step information and select Save

The new step will now be available as an option for when a staff member is filling out a risk assessment.